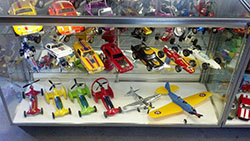 Since I was a kid I've always been interested in mechanical things. My bikes would come apart to do maintenance and detail every square inch on a weekly basis. Anything I could tear apart and put back together was fair game.
One day while on vacation my Mom took us to a local toy store where each of us kids got to pick out a toy. I grabbed an Indy car. When I opened the box I found out it had a gas powered engine. As soon as I got home I headed straight to the local hobby store and bought the fuel, battery, and accessories I needed to make it run. That was the beginning of a long love affair with gas powered cars.
Once I was old enough to drive my interests switched to cars. My first car was a blue 65 Mustang; 289 with a 4 speed and mag wheels. I didn't know a lot about cars at the time so mods were minimal; mostly just spent my time keeping it washed and waxed. As other cars followed, the knowledge and modifications grew. We're talking the early 70's so there was no internet to get info and help. We used the car magazines, the local speed shop, and if you were really lucky you knew a mechanic. Didn't have a lot of extra money, so learning to do things yourself was pretty much a necessity. Mistakes were common, but they were fixed and I always learned from the experience.
Of all the cars I've owned, there are a few I will always remember. I've included some of those on this site. The last few years have been spent modding older muscle cars with better brakes, suspensions, engines, and transmissions. There is nothing like the looks of the older cars, with the performance, drivability, and handling of a modern car. They are so much more fun to drive, yet still retain the looks of a classic muscle car. There are now several events across the country specifically made for these cars to participate and compete. We have web forums full of free information that are dedicated to these modernized muscle cars. I own a car site called Lateral-G.Net that covers these builds. You can check it out here by clicking the logo below: